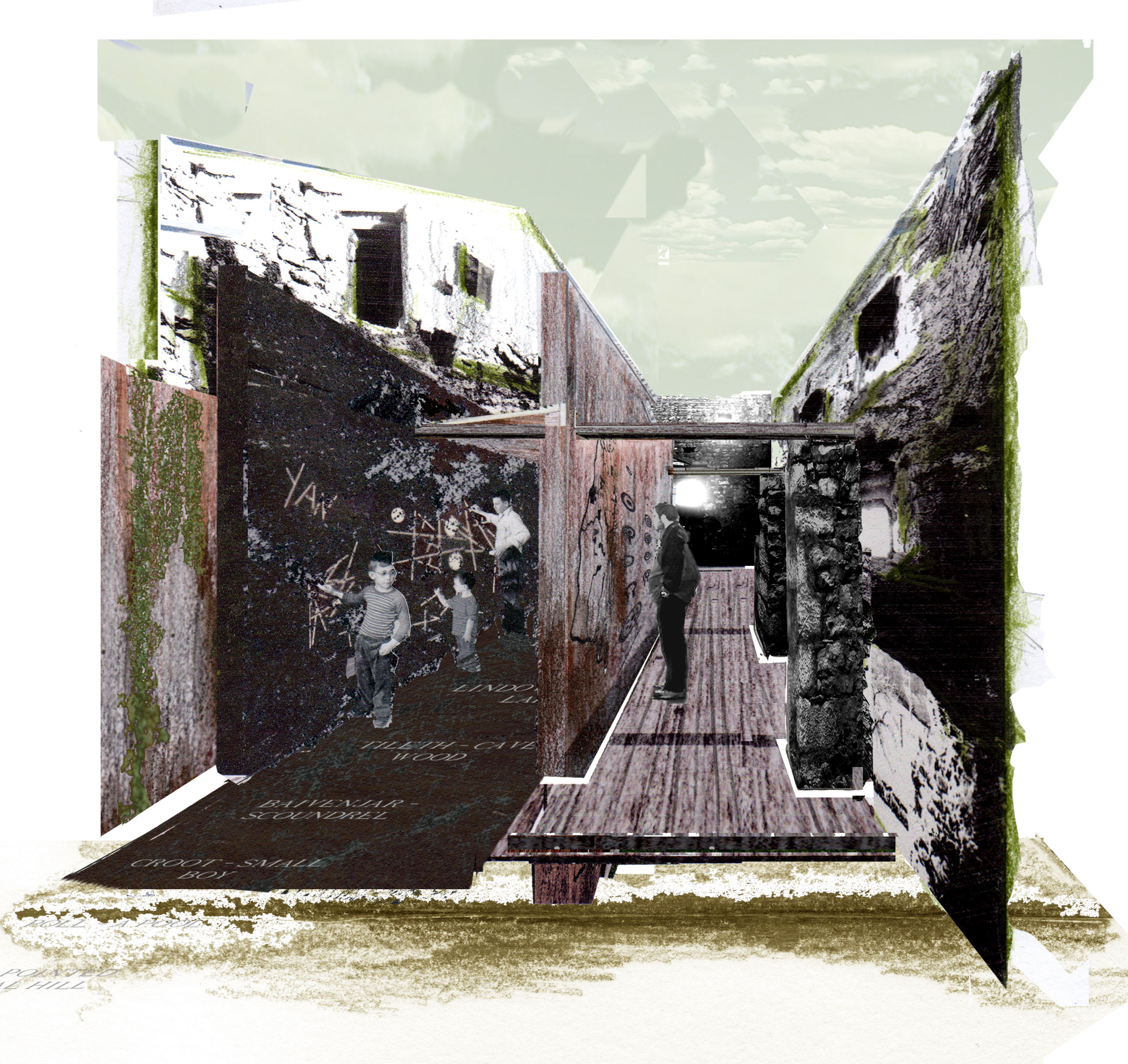 Above: Visual by Amanda Wheatley
The question that must be posed by this exhibition is what is your interpretation of interior design? Looking at the exhibition from an Architecture perspective should you be expecting an exhibition that deals solely with the shell left behind by Architects? If you consider the answer to be yes then surely you reduce the role of an Interior Designer to that of a painter and decorator. Hence on inspection of the work at Free Range you become aware that Interior Design is a holistic discipline where the best work emerges when the designer thinks outside that box, engages with the building and city, and adds something new.
Considering this method of assessing the work you may be enlightened by the quality and standard of work on display here. The work is accomplished and technically refined. You can see that all the skills of design are being taught. Some university resort to the slick glossy images and remove the substance of work but the majority display a clear narrative and firm final intention.
Now before discussing students in more detail here is some advice. If you are planning to see the remaining shows at Free Range you will need to leave a few hours as there is a tremendous amount of work to see. You have been warned but you do have the opportunity to dip in and out and take in some of the fine food and drink establishments of the area.
Week 7 of the Free Range showcase brings a new batch of fresh graduates to the attention of the East London set.
The Truman Brewery played host to Interior Design and Architecture students from the following universities and colleges:
University of Creative Arts, Canterbury
Ravensbourne College of Design and Communication
London Metropolitan University
University of Cardiff
Green Garlic- Memorial to RAF Bomber Command Squad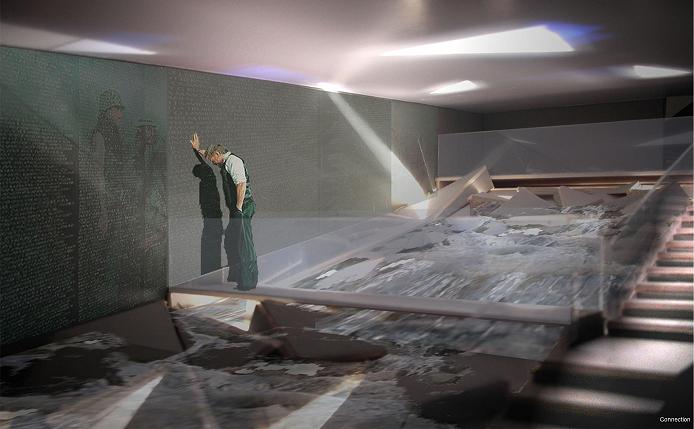 Above: Visual of the copper etched memorial wall. Image by Amanda Proctor
Proctor was one of two students that students that stood out in the Leeds Metropolitan show. The other was Amanda Wheatley. In both cases the students displayed an exceedingly sensitive approach to their subject matter and a highly accomplish execution of drawings. In Proctors case she chose a study of a former Bomber command post and proposed creating a memorial. Her proposal showed a desire to reveal existing fabric of the complex whilst adding new materials. For example the wall of all 553773 names of lost bomber crew members etched on a copper wall shows a clear tact in dealing with issues of memorial. This relationship between the old fabric of the bunker and the new insertions continues throughout, building a dialogue with the viewer. The central space feature a full size bomber acts as a focus and Proctor images clearly illustrates an understanding of light and shade. It is clear that Proctor has used all types of media to develop a final proposal. Her visuals are professional and her model is highly accomplished.
For the Lost and Found: Cumbrian Archaeological Collection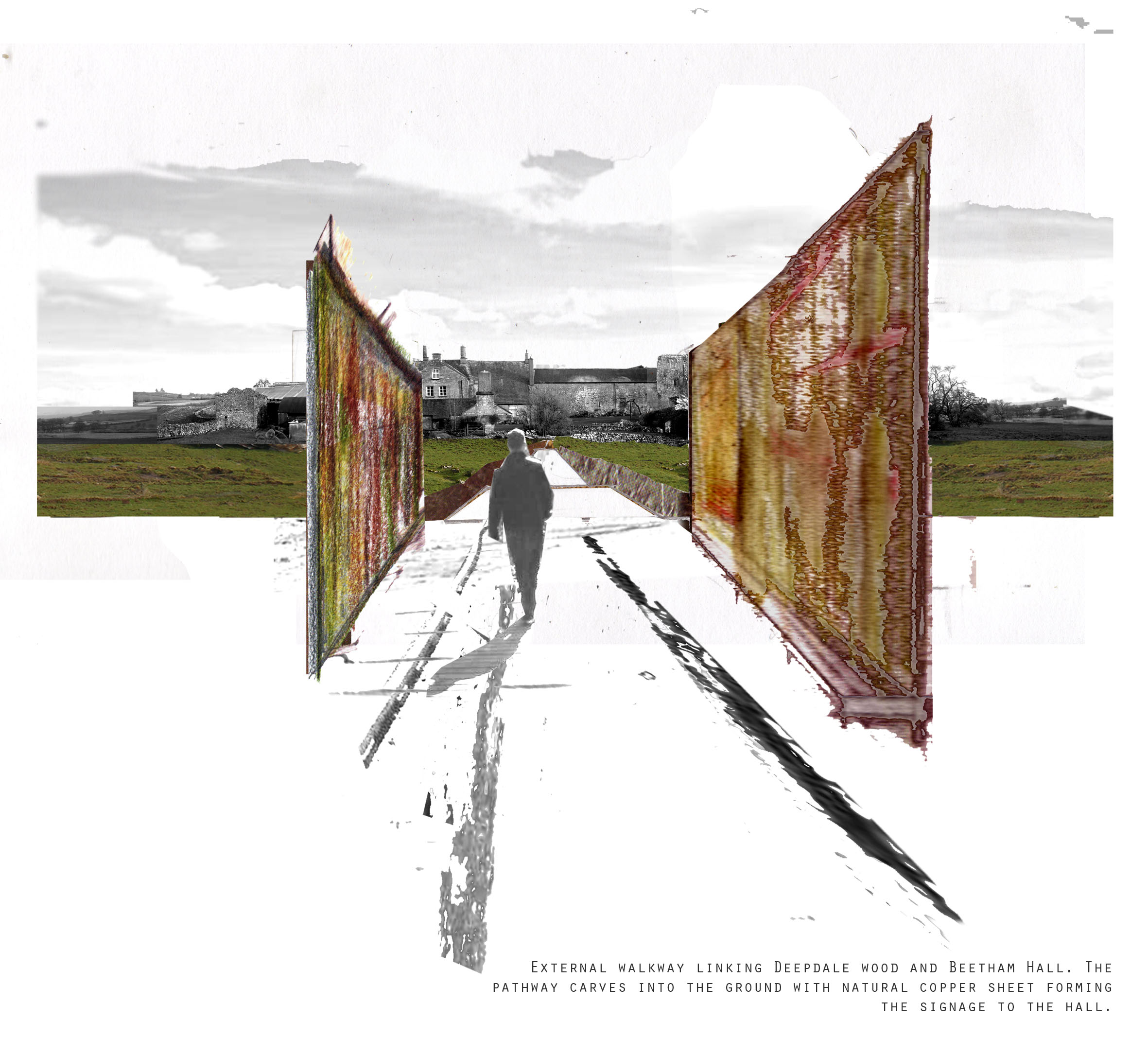 Above: External visual. Image by Amanda Wheatley
Wheatley's display was probably the most refined, holistic and accomplished work on display. Her exhibition clearly represented a very committed student with thorough understanding of the brief, the site and the way to communicate intentions. Her project focused on Beetham Hall, a fourteenth century fortified manor. Through sketches, collages and models she managed to reveal the layers of time and invest them with new meaning. This sensitive approach is matched with an appropriate selection of materials. One her most successful images are that of a new path way that will direct walkers to the manor. Wheatley states, "A new path located on a route currently used by many walkers will direct visitors to the centre. The walkway has been designed as if scoring into the earths surface. A concept that touches on excavation and the markings of pre-historic rock art". This insertion alone highlights Wheatley's successful intentions. Another image talks of the use of natural copper and treated copper. The natural copper is used in places where it will age with time; whereas other materials like pre treated copper will retain their finish and stand like ornaments. It is a understanding of materials that brings to mind the sculpture of Richard Serra and the architecture of Peter Zumthor. A very impressive piece of work.
Amy Beckett
Making Sense
University of Hertfordshire
Beckett's work stood out from her colleagues at the University of Hertfordshire for a number of reasons. First of all her display focussed some eye catching images for nursery in Greenwich. This was a fitting end to a successful project which involved a thorough investigation. Beckett's conclusive design diary illustrated her efforts to develop a design from a bottom up participatory process. Where better to start with the design of a nursery than with the end users: The children. The nursery design is inspired by a child's perception of the world and recalls the thinking of Jean Piaget, the Swiss Psychologist and Natural Scientist. Beckett asked children to draw their impressions of family, their favourite toy and finally their classroom. The results were considered by Beckett and she used it has a basis to formulate a design.
A very impressive and thorough project.
Sarah Catherine Bryan
Re- constitution
University of Cardiff
Bryan was one of several Cardiff students that produced some refined pieces of work in the reworking of existing buildings. Her proposal looked to remodel the Birmingham Central Library. She demonstrated an impressive knowledge of the building by stripping the building back to its original elements and returning parts of the building too its former glory. For example the undercroft has been revealed once more and given a use that responds to the public square. She then inserted a new parliament for the nation within the floors above revealing the atrium. Bryan's intentions are clear to see and she should be commended for her bravery in revealing the honesty of the structure. This is a proposal that raised questions about design and the democracy of the UK.
Other works of interest: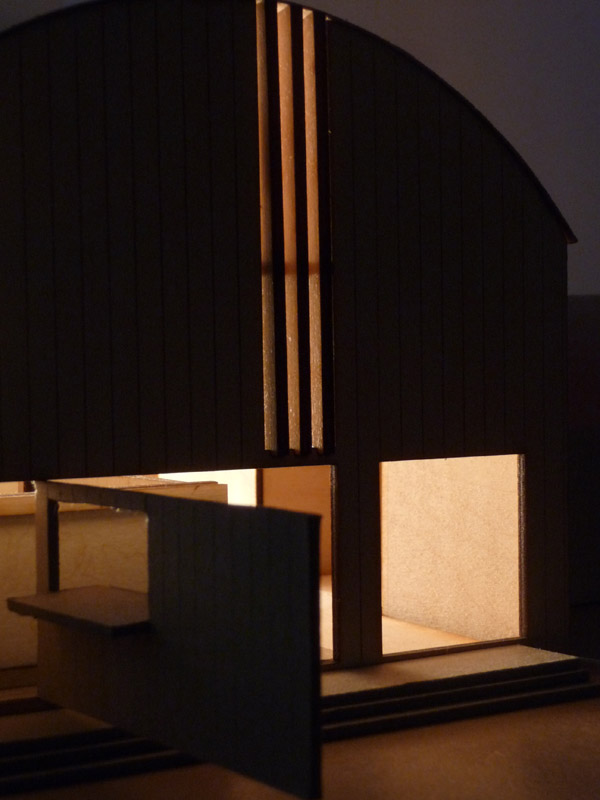 Roots of Borough Market
Oxford Brookes
Samantha Wilson
Imprint- The Book Store with No Books @ Urbis, Manchester
University of Huddersfield
Helen Lewis
The Urban Orchard
University of Huddersfield
David Millwood
The Gig Rig at Red Sands Fort
Cardiff
The Interiors Design and Architecture show contained some highly accomplished pieces of work not least those mentioned above. The best work was when the students deconstructed an existing building and tried to understand it. Those who conducted this thorough research where often granted a strong foundation in which to pursue a design. The likes of Amanda Wheatley demonstrate that a successful proposal combines this understanding along with that of new materials and a sensitive approach.