Last week on Boidus we discussed quite a few of the issues that surrounded the forthcoming meeting of the G20. We felt it was important to comment on the meeting for it would probably have a far reaching impact on the future direction of many key decisions. In parallel to these political events were the events of the many citizens who used their democratic right to protest. The vast majority of citizens aired their feelings in peace. The final images that Boidus showed was that of the small minded idiots that chose to smash windows in the city of London. It was a very eventful week in London. Aside from political posturing of world leaders in search of photo opportunities what was the outcome of this most historic event.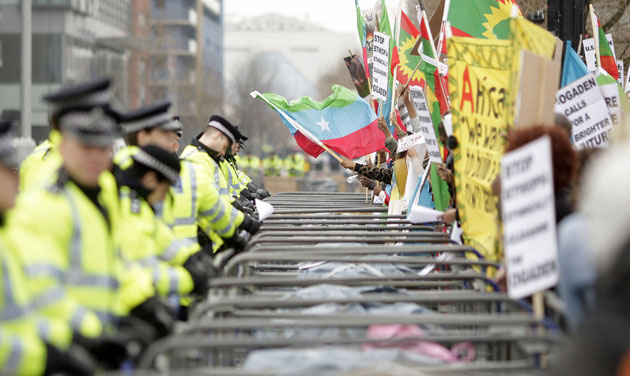 Photograph: SHAUN CURRY/AFP/Getty Images
These are the points as outlined by Patrick Wintour and Larry Elliot in their Guardian article:
Reform of the global banking system, with controls on hedge funds, better accounting standards, tighter rules for credit rating agencies, and immediate naming-and-shaming of tax havens that fail to share information.
A global common approach to dealing with toxic assets that impair the ability of banks to lend.
A $1.1tn package to supplement the $5tn stimulus to the global economy by individual countries. The $1.1tn will allow the IMF, the World Bank and others to increase lending to vulnerable countries. There will be a tenfold increase to $250bn in the IMF's facility allowing members to borrow from other countries' foreign currency reserves.
More power for leading developing countries within the IMF and World Bank, to end the stranglehold of the US and Europe on their top jobs.
$200bn of trade finance over two years to help reverse the steepest decline in world trade since 1945, with cash from a range of public and private sources.
A pledge that the fiscal stimulus, including the sale of gold by the IMF due to raise $6bn, will give help to the poorest nations and create green jobs.
However there is a glaring omission from the agreements brokered this week with regards to the environment. Wintour and Elliot state that "British government officials lost their battle to include a commitment to spend a substantial share of the economic stimulus on low-carbon recovery projects. Vague low-carbon language and climate change negotiations in Copenhagen in December were relegated to two paragraphs at the communiqué's end". They continue, "the summit's biggest loser may have been the fight against climate change. Diplomatic sources said China led the opposition to green language in the final communique. David Norman, the WWF campaigns director, claimed that the summit had been "a huge missed opportunity".
If this is the outcome then I would have to strongly agree with David Norman of WWF. Ever since George Bush failed to sign up to the Kyoto Protocol in 2001 global advocates of the green agenda have been fighting a loosing battle. There has been hope that with the presidency of Bush over and a new start with Obama that Kyoto will be revived. Indeed in November in the run up to the elections Obama affirmed his countries new commitments. I also see Obama's impact at G20 and the subsequent NATO summit as reason to be hopeful. He has added impetus to agreements met this last week.
However the fall out from G20 leaves me concerned. Is this a case of here we go again? China is clearly a big player, a developing nation and a significant contributor to global emissions. Will it be a case that environmental discussions now stall because of China's drive for economic growth? Is China the new fly in the ointment as Bush was? We shall see.
Click here for a background to China's stance in this article by Elizabeth Balkan
Another thing that concerns me and that is when our nations desire to be green clashes with the desire to show economic recovery. How can Gordon Brown stand up for the environment when his own growth packages include road building and the controversial expansion of Heathrow Airport? It is like the marathon runner eating MacDonald's for breakfast. The two are not a healthy combination.
Once again I call for our elected to leaders to employ joined up thinking. If our leaders can come together and negotiate a huge financial package surely it is but a few more steps to agree a package to tackle climate change. I look to the Copenhagen Climate Conference in December in hope of some early Christmas cheer and not fear for the future.
Click here for Climate Conference in Copenhagen.